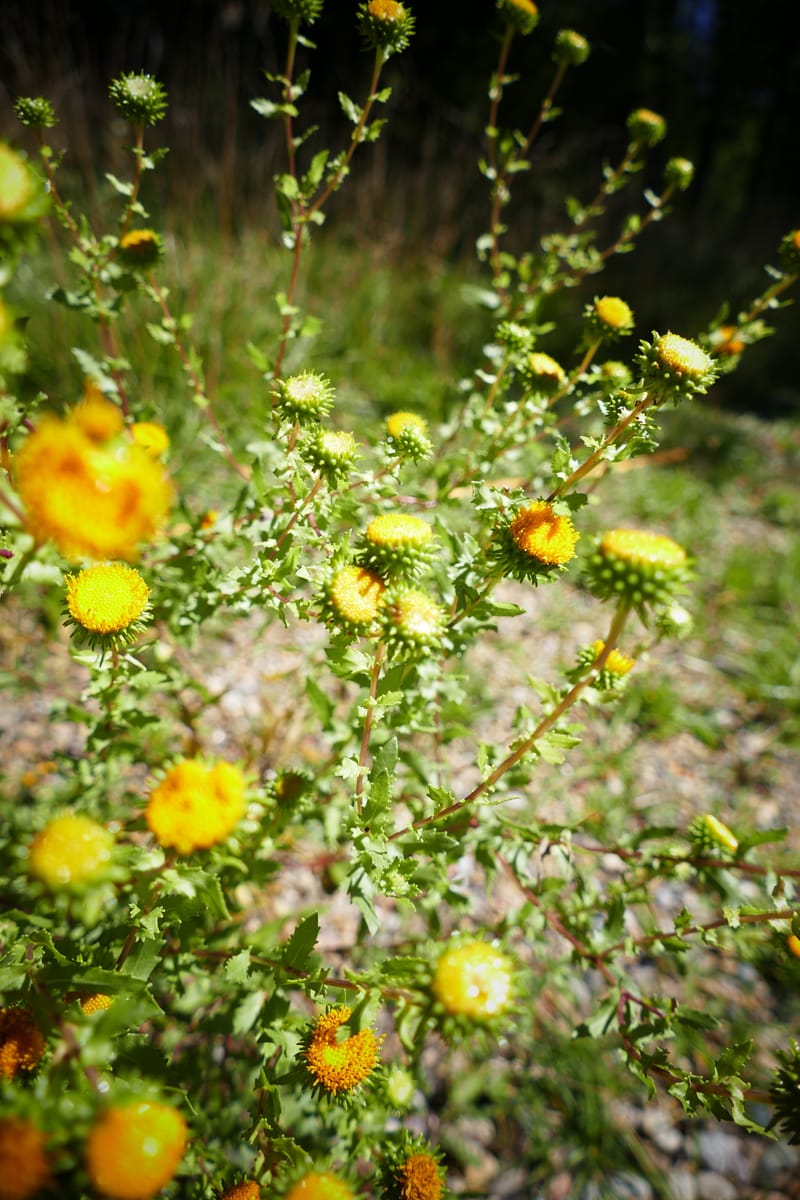 We are still not shipping fresh above ground plants because shipping delays have caused too much stress and heartbreak when they arrive unusable. We are shipping roots and more hardy plant matter. Please get in touch. (10-2020)
Fresh plant orders come with ice pack(s). You have the choice of overnight with actual shipping cost adjusted at time of shipping, or priority with these rates. We'll be in touch to find out what you'd like when you place your order.
Because climate, plants and humans are unpredictable, not all herbs are available every year.
Spike Vervain
(Verbena macdouglaii). Flowering above ground plant. $15/lb. (July-October)
Grindelia
(Grindelia squarossa). Flowers. $20/lb. (July-September)
Monarda fistulosa
. Pre-flower or Flowering above ground plant. $25/lb. (July-October)
Comfrey
(Symphytum officinale). Flowering above ground plant, pre-flower leaf or root. $15/lb. (April-November)
Yarrow
(Achillea millefolium) Fresh flowering above ground plant. $20/lb. (August-November)
Evening Primrose
(Oenethera elata) Flowering above ground plant, root, or whole 1st year plantt. $15/lb. (Apr-Nov)
Sweet Clover
(Melilotus sp.) Flowering above ground plant. $20/lb. (August-September)
Uva-ursi
(Arctostaphylos uva-ursi). Above ground plant. $25/lb. (Variable, when new fresh growth)
Dandelion
(Taraxacum officinale) Root. $15/lb. (Spring and Fall)
Burdock
(Arctium minus) Root. $15/lb. (Spring and Fall)
Yellow Dock Root
(Rumex crisps) Root. $15/lb. (September-November)
Mullein
(Verbascum thapsus) Leaf, root or whole plant. $15/lb. (Spring and Fall)
Ocotillo
(Foquieria splendors) $25/lb. (One harvest per year. Write or check newsletter.)
Nettle
(Urtica dioica). Pre-flower above ground plant$20/lb., seed $4/oz., or root $20/lb. (April-November)
Parrot's Beak
(Pedicularis racemosa). Flowering above ground plant $30/lb. (June-August)
Alder
(Alder incana sub. tenufolia). Bark and twig $15/lb. (March-May)
Rocky Mountain Juniper (
Juniperus scopulorum) Twigs, Needles and/or Fruits $20/lb. Others species available on request. (September-March)
Various Pinaceae
Needle, Small Branch, Immature Cone $20/lb. (Variable, dependent on wind/hail/etc.)